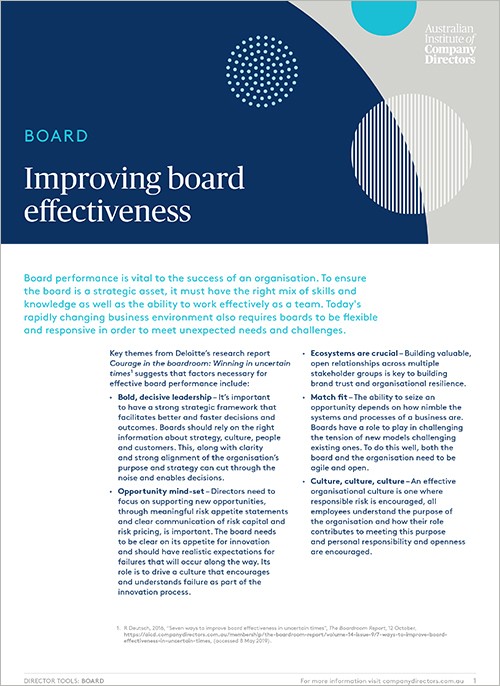 Board performance is vital to the success of an organisation. To ensure the board is a strategic asset, it must have the right mix of skills and knowledge as well as the ability to work effectively as a team. Today's rapidly changing business environment also requires boards to be flexible and responsive in order to meet unexpected needs and challenges.
Key themes from Deloitte's research report Courage in the boardroom: Winning in uncertain times1 suggests that factors necessary for effective board performance include:
Bold, decisive leadership – It's important to have a strong strategic framework that facilitates better and faster decisions and outcomes. Boards should rely on the right information about strategy, culture, people and customers. This, along with clarity and strong alignment of the organisation's purpose and strategy can cut through the noise and enables decisions. 
Opportunity mind-set – Directors need to focus on supporting new opportunities, through meaningful risk appetite statements and clear communication of risk capital and risk pricing, is important. The board needs to be clear on its appetite for innovation and should have realistic expectations for failures that will occur along the way. Its role is to drive a culture that encourages and understands failure as part of the innovation process.
Ecosystems are crucial – Building valuable, open relationships across multiple stakeholder groups is key to building brand trust and organisational resilience. 
Match fit – The ability to seize an opportunity depends on how nimble the systems and processes of a business are. Boards have a role to play in challenging the tension of new models challenging existing ones. To do this well, both the board and the organisation need to be agile and open. 
Culture, culture, culture – An effective organisational culture is one where responsible risk is encouraged, all employees understand the purpose of the organisation and how their role contributes to meeting this purpose and personal responsibility and openness are encouraged.
Cracking the diversity code – Boards must consider dynamic renewal, bringing fresh perspectives and diversity of thinking at a functional as well as cultural level. Directors can accelerate the process of enriching board thinking through gender, educational, cultural, global and experiential diversity. 
Curiosity is key – Directors should get out of the 'same old boardroom' and develop new skills and innovation insights. They should task themselves with creating the questioning and challenging environment needed to imagine, inspire and deliver better outcomes. Complacency can be a killer. 
Download the tool to read more.
This is of of your complimentary pieces of content
Already a member?
Login to view this content