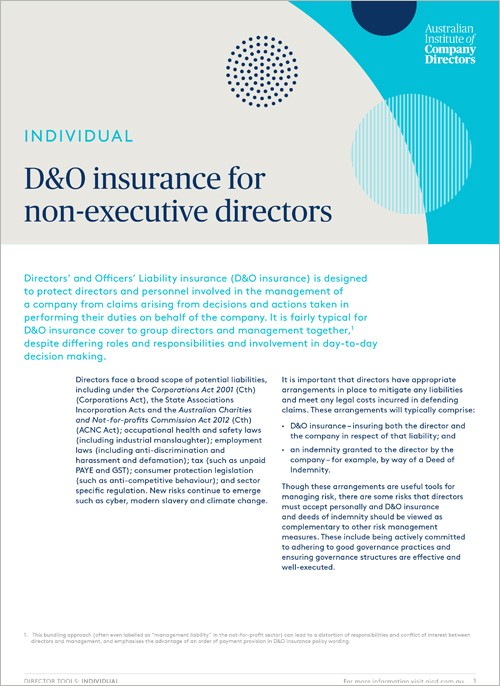 Directors' and Officers' Liability insurance (D&O insurance) is designed to protect directors and personnel involved in the management of a company from claims arising from decisions and actions taken in performing their duties on behalf of the company. 
It is fairly typical for D&O insurance cover to group directors and management together, despite differing roles and responsibilities and involvement in day-to-day decision making. 

Directors face a broad scope of potential liabilities, including under the Corporations Act 2001 (Cth) (Corporations Act), the State Associations Incorporation Acts and the Australian Charities and Not-for profits Commission Act 2012 (Cth) (ACNC Act); occupational health and safety laws (including industrial manslaughter); employment laws (including anti-discrimination and harassment and defamation); tax (such as unpaid PAYE and GST); consumer protection legislation (such as anti-competitive behaviour); and sector specific regulation. New risks continue to emerge such as cyber, modern slavery and climate change.

Downlaod the tool to read more. 
This is of of your complimentary pieces of content
Already a member?
Login to view this content