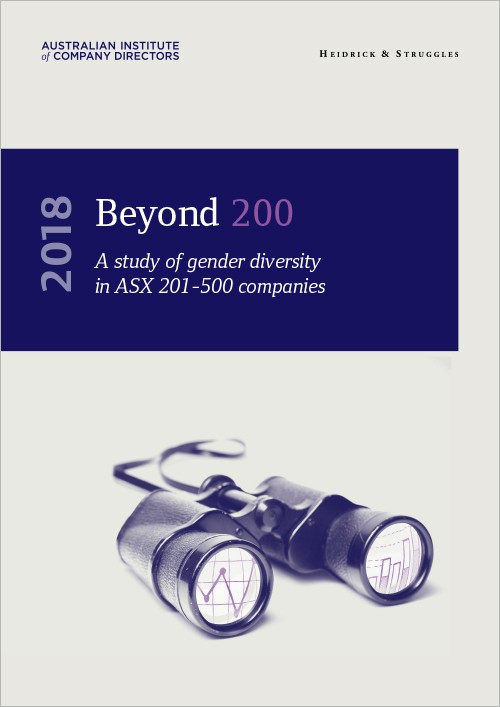 This new report by the Australian Institute of Company Directors and Heidrick & Struggles, is the first of its kind to examine the state of gender diversity on ASX 201-500 companies.
AICD Chairman Elizabeth Proust AO FAICD said that while the AICD has been tracking progress towards the 30% gender diversity target on ASX 200 boards for some years, it was time to shine the spotlight on small-cap companies as well.
"Research shows 30% is the tipping point where the true benefits of gender diversity are gained, and that's the case regardless of whether you're an ASX50 or ASX500 company," she said.
"This report indicates that there are larger obstacles to achieving greater gender diversity among companies outside the ASX200, given small board sizes and greater presence of founders and investors. However it also shows chairs of larger companies are exerting their influence and newer companies have heard the message about the importance of diversity.
Guy Farrow, Managing Partner of Heidrick & Struggles Australia, said that as a global leadership advisory firm, the company has a responsibility to guide boards and senior leadership teams towards hiring decisions that will produce the best outcomes, and that diversity is fundamental to that goal.
"Today's small cap company can be tomorrow's ASX 100 business. Statistics have shown that over a 10-year period, a certain percentage of small-cap companies can grow to become larger cap businesses. Any company that aspires to break into the higher reaches of the ASX needs to consider how its governance principles will stand up to increasing scrutiny from investors," he said.
"This report suggests that while many small cap companies are missing out on the benefits of diversity, there are also signs of positive change. Younger companies have a higher percentage of women on their boards, and millennials – who have grown up accepting diversity as the norm rather than as an aspirational goal – are no doubt making a difference."
Key findings from Beyond 200: A Study of Gender Diversity in ASX 201-500 companies:
Female representation on boards greatly declines beyond the ASX 200, falling from 27.9% across the ASX 200 to 15.8% across ASX 201-500 companies.
Newer companies are more likely to have greater gender diversity. Of the 83 companies that listed on the ASX in the past 5 years, 25.3% have 30% or more women on their boards.
Female representation rises to 22.9% on ASX 201-500 boards chaired by an ASX200 Chair.
16% of ASX 201-500 boards have achieved or surpassed the 30% target.
38% of ASX 201-500 boards have no women at all.
For companies listed in the last 5 years, women comprise 25.3% of board positions compared to only 13% of board positions for companies listed over 5 years ago.
Women account for 10.3% of board roles for ASX 201-500 companies in male-dominated industries, compared to 24.1% across the ASX 200.
This is of of your complimentary pieces of content
Already a member?
Login to view this content