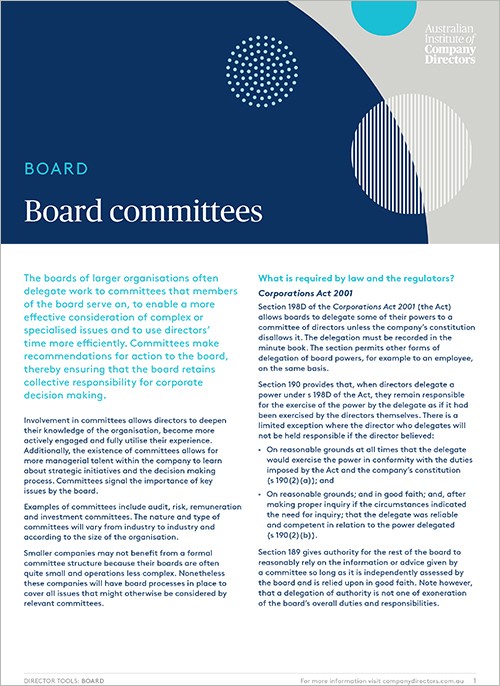 The boards of larger organisations often delegate work to committees that members of the board serve on, to enable a more effective consideration of complex or specialised issues and to use directors' time more efficiently. Committees make recommendations for action to the board, thereby ensuring that the board retains collective responsibility for corporate decision making.
Involvement in committees allows directors to deepen their knowledge of the organisation, become more actively engaged and fully utilise their experience. Additionally, the existence of committees allows for more managerial talent within the company to learn about strategic initiatives and the decision making process. Committees signal the importance of key issues by the board.
Examples of committees include audit, risk, remuneration and investment committees. The nature and type of committees will vary from industry to industry and according to the size of the organisation.
Smaller companies may not benefit from a formal committee structure because their boards are often quite small and operations less complex. Nonetheless these companies will have board processes in place to cover all issues that might otherwise be considered by relevant committees.

Downlaod the tool to read more. 

This is of of your complimentary pieces of content
Already a member?
Login to view this content