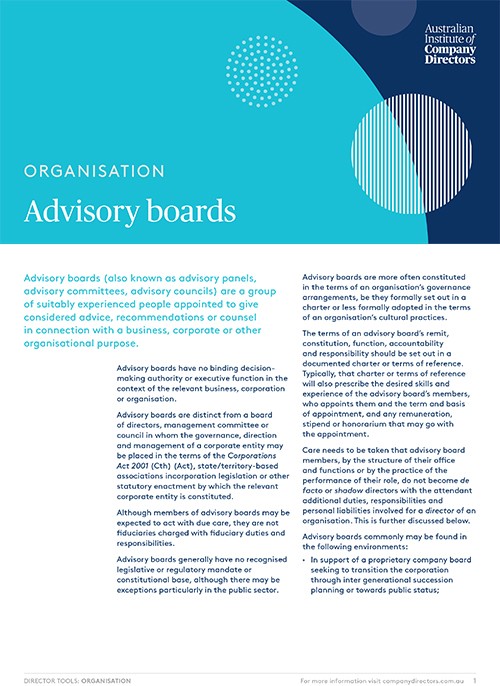 Advisory boards (also known as advisory panels, advisory committees, advisory councils) are a group of suitably experienced people appointed to give considered advice, recommendations or counsel in connection with a business, corporate or other organisational purpose.
Advisory boards have no binding decisionmaking authority or executive function in the context of the relevant business, corporation or organisation.
Advisory boards are distinct from a board of directors, management committee or council in whom the governance, direction and management of a corporate entity may be placed in the terms of the Corporations Act 2001 (Cth) (Act), state/territory-based associations incorporation legislation or other statutory enactment by which the relevant corporate entity is constituted.
Although members of advisory boards may be expected to act with due care, they are not fiduciaries charged with fiduciary duties and responsibilities.
Advisory boards generally have no recognised legislative or regulatory mandate or constitutional base, although there may be exceptions particularly in the public sector.
This is of of your complimentary pieces of content
Already a member?
Login to view this content